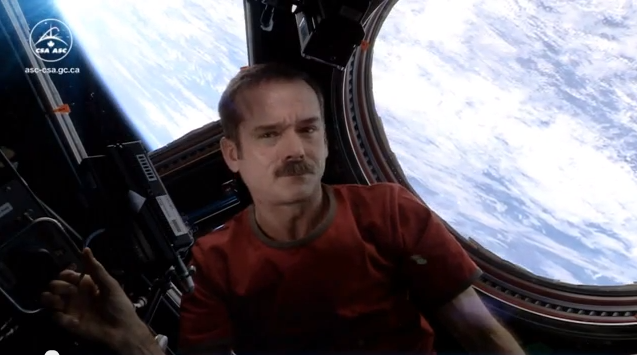 We started a tradition. At the beginning of each new SSEP flight opportunity, we now post on this blog the NASA Johnson Style video. It's a way to get thousands of new student microgravity researchers and their communities into the spirit of this program. (Sound familiar Mission 6?)
But why not post a powerful video for other key milestones across a SSEP flight opportunity, say every time a SSEP payload of experiments returns to Earth?
So … in honor of the Soyuz 36S return to Earth this Monday with astronauts Michael Hopkins (USA), Oleg Kotov (Russia), and Sergey Ryazanskiy (Russia), the Falcon II payload of 12 SSEP Mission 3b experiments and the Orion payload of 11 SSEP Mission 4 experiments, we post the following video. Our hope is to excite the 8,700 students that were engaged in Missions 3b and 4 as they see their communities' experiments return from space; the 6,750 SSEP student researchers that were engaged in Mission 5, with 15 experiments launching on Orb-2 on  May 1, 2014, as the Charlie Brown payload; and the 7,950 students that just started Mission 6 last week. It should also be noted that returning American astronaut Mike Hopkins conducted on-orbit operation for the SSEP experiments on the final Crew Interaction Days.
We have also posted below yesterday's NASA Media Advisory on Soyuz 36S undocking and de-orbit, which provides times of NASA TV live coverage of milestone events. Note times are provided in EDT (yes, we go back on Eastern Daylight Time on March 9, in advance of de-orbit). Undocking is scheduled for March 10, 8:02 pm EDT, and landing in Kazakhstan at 11:24 pm EDT. We will put up a post with a NASA TV live stream on this Blog so that you can watch coverage right her at the SSEP website if you wish.
Just before his return to Earth on Soyuz 33S, on May 13, 2013, Expedition 35 International Space Station Commander and Canadian astronaut Chris Hadfield – the first Canadian to walk in space –released this video. We are also honored that we can share this with our two SSEP Canadian Communities – Stonewall, Manitoba, with a Mission 3 experiment returning to Earth on Monday, and Kamloops/Thompson, British Columbia, that just began Mission 6.
Teachers, we invite you to lower the lights in your classrooms, project this on a screen, and let all your SSEP student researchers feel that they truly are part of this adventure. You might also consider having a class discussion about the emotional content of this song, who is singing it (here is Chris' bio at the Canadian Space Agency), where he is singing it, and what it must feel like to leave Low Earth Orbit and return to Earth.
Human exploration? It is a wondrously emotional endeavor, and we express that emotion in myriad ways – through art, through prose and poetry, through story-telling, and through music. And all this goes hand-in-hand with science, and more generally STEM – really. The human condition is an interdisciplinary tapestry – something to be celebrated in all our classrooms.
We shall not cease from Exploration.
And the end of all our exploring
will be to arrive where we started
and know the place for the first time.
-T.S. Eliot
March 6, 2014
MEDIA ADVISORY M14-038
NASA Television Set to Cover March Soyuz Landing Operations
Three crew members aboard the International Space Station are scheduled to end almost six months on the orbiting laboratory on March 10, and NASA Television will provide complete coverage.
Expedition 38 Commander Oleg Kotov and Flight Engineer Sergey Ryazanskiy of the Russian Federal Space Agency (Roscosmos) and Flight Engineer Michael Hopkins of NASA will undock their Soyuz spacecraft from the station on March 10 at 8:02 p.m. EDT, heading for a landing in Kazakhstan, southeast of Dzhezkazgan at 11:24 p.m. (9:24 a.m. on March 11 local time in Dzhezkazgan). The crew's return will wrap up 166 days in space since launching from Kazakhstan on Sept. 26, 2013.
At the time of undocking, Expedition 39 will begin formally aboard the station under the command of Koichi Wakata of the Japan Aerospace Exploration Agency, the first Japanese commander of the complex. Wakata and his crewmates, NASA Flight Engineer Rick Mastracchio and Mikhail Tyurin of Roscosmos, will operate the station as a three-person crew for two weeks until the arrival of three new crew members, U.S. astronaut Steve Swanson and Russian cosmonauts Alexander Skvortsov and Oleg Artemyev, who are scheduled to launch from Kazakhstan March 25, U.S. time.
NASA Television coverage will begin on Sunday morning, March 9, with the change of command ceremony in which Kotov will turn over command of station operations to Wakata, and it will continue March 10 and 11 with Expedition 38 landing and post-landing activities. All following times are in EDT.
Sunday, March 9:
4:55 a.m. – Expedition 38/39 change of command ceremony
Monday, March 10:
4:30 p.m. – Farewells and hatch closure (hatch closure scheduled at 4:45 p.m.)
7:45 p.m. – Undocking (undocking scheduled at 8:02 p.m.)
10:15 p.m. – Landing (landing scheduled at 11:24 p.m.)
Tuesday, March 11:
1:30 a.m. – Video File of Hatch Closure, Undocking and Landing Activities
2 p.m. – Video File of Post-Landing Activities and Interview with Michael Hopkins in Kazakhstan
For more information on the International Space Station, visit:
http://www.nasa.gov/station
For b-roll and other media resources, visit:
http://www.nasa.gov/stationnews
For the NASA Television schedule and coordinate, visit:
http://www.nasa.gov/nasatv
-end-
---
The Student Spaceflight Experiments Program (SSEP) is a program of the National Center for Earth and Space Science Education (NCESSE) in the U.S., and the Arthur C. Clarke Institute for Space Education internationally. It is enabled through a strategic partnership with NanoRacks LLC, working with NASA under a Space Act Agreement as part of the utilization of the International Space Station as a National Laboratory. SSEP is the first pre-college STEM education program that is both a U.S. national initiative and implemented as an on-orbit commercial space venture.
The Smithsonian National Air and Space Museum, Center for the Advancement of Science in Space (CASIS), and Subaru of America, Inc., are National Partners on the Student Spaceflight Experiments Program.