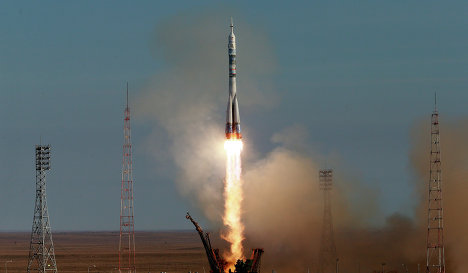 Astronauts Rick Mastracchio (USA), Mikhail Tyurin (Russia), and Koichi Wakata (Japan) were launched aboard a Soyuz vehicle at 11:14 pm EST Wednesday, November 7, from Kazakhstan with the Olympic Torch aboard.
Soyuz arrived at Station at 5:31 am EST today. Hatch opening is scheduled for 7:40 am EST, with live coverage starting at 7:15 am. You can watch NASA TV right here in the portal below.
All three astronauts will be aboard ISS when the SSEP Mission 3b Falcon II and Mission 4 Orion payloads of experiments arrive in December. With their arrival, there are now 9 astronauts aboard Station, which has not happened since October 2009.
---
The Student Spaceflight Experiments Program (SSEP) is a program of the National Center for Earth and Space Science Education (NCESSE) in the U.S., and the Arthur C. Clarke Institute for Space Education internationally. It is enabled through a strategic partnership with NanoRacks LLC, working with NASA under a Space Act Agreement as part of the utilization of the International Space Station as a National Laboratory. SSEP is the first pre-college STEM education program that is both a U.S. national initiative and implemented as an on-orbit commercial space venture.
The Smithsonian National Air and Space Museum, Center for the Advancement of Science in Space (CASIS), Carnegie Institution of Washington, NASA Nebraska Space Grant Consortium, and Subaru of America, Inc., are National Partners on the Student Spaceflight Experiments Program.