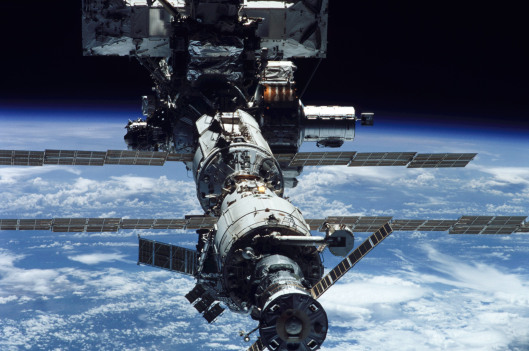 NASA Breaking News: 5:10 pm EDT, March 28, 2013
A Soyuz vehicle carrying three Expedition 35 crew members to the International Space Station (ISS) was launched at 4:43 pm EDT, from Kazakhstan. Chris Cassidy, Pavel Vinogradov and Alexander Misurkin will be aboard ISS during Falcon 1 payload operations for Student Spaceflight Experiments Program Mission 4 to ISS. Soyuz will be docking at ISS just 6 hours after launch – which is precedent-setting. The full NASA press release is provided below.  You can watch vehicle docking live on NASA TV (we've provided a video portal below) starting at 9:30 pm EDT this evening. See the press release for details.
Joshua Buck
Headquarters, Washington
202-358-1100
jbuck@nasa.gov
Josh Byerly
Johnson Space Center, Houston
281-483-5111
josh.byerly@nasa.gov
RELEASE: 13-089
NEW SPACE STATION RESIDENTS EN ROUTE TO ORBITING LABORATORY
HOUSTON — Three new crew members are on an unprecedented fast track
to the International Space Station, going from the launch pad to the
orbiting complex in just six hours.
Chris Cassidy of NASA and Pavel Vinogradov and Alexander Misurkin of
the Russian Federal Space Agency (Roscosmos) launched in their Soyuz
spacecraft from the Baikonur Cosmodrome in Kazakhstan at 3:43 p.m.
CDT Thursday, March 28 (2:43 a.m. Baikonur time March 29).
Instead of taking the standard two days to rendezvous and dock with
the station, Cassidy, Vinogradov and Misurkin will become the first
crew to make the trip in just six hours. They will need only four
orbits of Earth to reach the orbiting laboratory. This flight will
use rendezvous techniques perfected recently with three unpiloted
Russian Progress resupply vehicles.
The crew will dock with the station's Poisk module at 9:32 p.m. CDT.
NASA TV coverage will begin at 8:30 p.m. CDT (9:30 p.m. EDT). Hatches
are scheduled to open between the Soyuz and the station at 11:10 p.m.
CDT with NASA TV coverage of the activities beginning at 10:30 p.m.
CDT (11:30 p.m. EDT).
Cassidy, Vinogradov and Misurkin will join Expedition 35 Commander
Chris Hadfield of the Canadian Space Agency, Tom Marshburn of NASA
and Roman Romanenko of Roscosmos. They have been aboard the complex
since December.
Expedition 35 will continue to expand the scope of research aboard the
station, seeking knowledge that strengthens our economy, improves
life on Earth and advances future exploration beyond Earth orbit.
During the next six months, the crew will perform more than 180
investigations covering human research, biological and physical
sciences, technology development, Earth observation and education.
To learn more about Expedition 35, visit:
http://go.nasa.gov/Expedition35
To follow Twitter updates from NASA's Expedition 35 astronauts, visit:
http://twitter.com/Cmdr_Hadfield
and
http://twitter.com/AstroMarshburn
NASA TV
---
The Student Spaceflight Experiments Program (SSEP) is a program of the National Center for Earth and Space Science Education (NCESSE) in the U.S., and the Arthur C. Clarke Institute for Space Education internationally. It is enabled through a strategic partnership with NanoRacks LLC, working with NASA under a Space Act Agreement as part of the utilization of the International Space Station as a National Laboratory. SSEP is the first pre-college STEM education program that is both a U.S. national initiative and implemented as an on-orbit commercial space venture.  The Center for the Advancement of Science in Space (CASIS) and Subaru of America are National Partners on the Student Spaceflight Experiments Program.